What's New At LMAS
Tattoo Inks and Needles Recall
Tattoo inks and needles from White & Blue Lion, Inc. of California are being recalled by the company due to pathogenic bacterial contamination. The U.S. Food and Drug Administration (FDA) laboratory found microbial bacterial contamination in both the inks and the needles.

The inks are sold both separately and as part of tattoo kits with the needles by 8Decades and White & Blue Lion, Inc. through Amazon.com. See below for the complete list of recalled items.

Tattoo Inks
sold in kits and separately)

Brand

Code

Size

All Colors

Multi colored Chinese Dragon Image with black and white lettering

Lot No. OR20036
Batch #8
Best if used by 12/16/16

5 ml bottle
Tattoo Needles (included in kits)

Brand

Codes

Lot No

Expiration

Individually packaged in groups of 5

None – labeled as "CE0197 Pre-made tattoo needle"
"sterilized by E.O. Gas"

Art No. 1203RL, 1205M, 1205RL, 1205RS, 1209RL, 1207RL, 1207M, 1207RS, 1209M, 1209RS

201308, 201307, 201312, 201402, 201311, 201310

JUN2018

Use of the infected products may cause bacterial infection and may lead to sepsis, a potentially fatal whole body inflammation caused by severe infection. As of July 11, 2014, one illness had been reported related to the tattoo products.

Consumers with questions should contact the company at 1-626-586-3485, Monday through Friday, 9am-6pm PST. Persons with health concerns related to the tattoo products should contact a physician.

LMAS District Health Department recommends that anyone considering getting a tattoo should do so in a licensed body art facility. Click here for a list of all licensed body art facilities in Michigan (as of July 7, 2014).
Technical Guidance Manual Propsed Changes
The Minimum Requirements for Alternative On-Site Treatment Systems - DRAFT (Technical Guidance Manual) has been updated with proposed changes. Please click the link to view the draft.
Superior Health Foundation Breast Health Fund
Eligible breast cancer patients from all across the Upper Peninsula can apply for philanthropic grant funding/financial support to help minimize the out-of-pocket expenses for those who most need support for breast-care related bills, biopsies, procedures and ultrasound tests.
For more information about the BCC program, please contact:
LMAS District Health Department
Attn: Debbie Hoder
14150 Hamilton Lake Rd.
Newberry, MI 49868
(906) 293-1322 (phone)
(906) 293-5453 (fax)

Call 2-1-1
"2-1-1" is an easy-to-remember telephone number that connects people with important community services and volunteer opportunities.
Every hour of every day someone needs essential services such as assistance for a child, aging parent, or the entire family. Faced with the growing number of agencies and help-lines, individuals may have difficulty finding help because they do not know where to start or who to contact. U.P. 2-1-1 opens the door by providing easy access to needed information and assistance.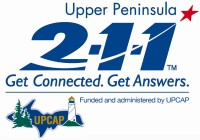 Their mission is to provide easy accessible, responsive, and professional information and assistance to Upper Peninsula citizens and families in need.
For more information on 2-1-1, click here:
2-1-1
---
LMAS Hours of Operation
Our offices are open Monday - Thursday from 8 AM - 4 PM. We are closed on Fridays.
We will also be closed on the following days:
Tuesday-Wednesday, December 24-25, 2013, Christmas Holiday
Tuesday-Wednesday, December 31, 2013 - January 1, 2014, New Years Holiday
Monday, February 17, 2014, Presidents Day
Monday, May 26, 2014, Memorial Day
Friday, July 4, 2014, Independence Day
Monday, September 1, 2014, Labor Day
Thursday, November 27, 2014, Thanksgiving Day
Wednesday-Thursday, December 24-25, 2014, Christmas Holiday
Wednesday-Thursday, December 31, 2014 - January 1, 2015, New Years Holiday


---