What's New At LMAS
**WARNING – SCAM ALERT**
Please be aware there is a phony inspector scam currently circulating through Northern Michigan. A person pretending to be with the State Health Department will call the restaurant and say they will be coming into the restaurant for an inspection. The fake food inspector will then tell the restaurant that they will be receiving an inspection number from an automated call. The man calling has been noted as having an Indian accent.

If you happen to find yourself in this situation hang up the phone and call your local Health Department office to report the incident. Inspections conducted by the Health Department are unannounced. Under no circumstance will the Health Department ask you to register for any type of inspection.
This is the latest of many scams that have been circulating through the food service industry. We encourage you to always ask your inspector to show you their Health Department ID. If you ever have any questions on whether an inspector works for the LMAS District Health Department please call your local Health Department office listed above.
Pertussis Vaccination in Pregnancy
Infants are at the greatest risk of acquiring pertussis and suffering severe complications, including death. Because no pertussis vaccines are currently licensed and recommended for newborns who are younger than 2 months of age, prevention ideally starts during pregnancy. On the basis of recommendations published in early 2013, expectant mothers should receive Tdap during each pregnancy, preferably between 27 and 36 weeks of gestation. The timing of this vaccination is not a safety issue but rather maximizes the transplacental transfer of pertussis antibodies, which peak about 2 weeks after maternal vaccination. This protection is critical in early life before the baby begins to receive DTaP series.
Even if you don't administer vaccines in your practice, recommend Tdap for your pregnant patients. Consider writing a prescription to ensure that your patients are able to receive the vaccine during pregnancy as easily as possible. To help implement this recommendation, the American College of Obstetricians and Gynecologists has reimbursement and patient communication tools available on their Website, Immunization for Women.
Maternal healthcare providers also have the opportunity to talk about and reinforce the importance of starting the primary DTaP series on schedule so that protection remains as high as possible during the first few months of life when the baby is most vulnerable. Research shows that giving the first dose at 2 months of age may protect babies from dying of pertussis.
As you talk to your patients about the benefits of vaccination, reassure them that the Advisory Committee on Immunization Practices (ACIP) concluded that Tdap is not associated with elevated frequency or unusual occurrence of adverse events among pregnant women or their infants.
Call 2-1-1
"2-1-1" is an easy-to-remember telephone number that connects people with important community services and volunteer opportunities.
Every hour of every day someone needs essential services such as assistance for a child, aging parent, or the entire family. Faced with the growing number of agencies and help-lines, individuals may have difficulty finding help because they do not know where to start or who to contact. U.P. 2-1-1 opens the door by providing easy access to needed information and assistance.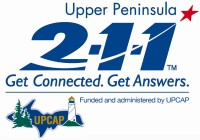 Their mission is to provide easy accessible, responsive, and professional information and assistance to Upper Peninsula citizens and families in need.
For more information on 2-1-1, click here:
2-1-1
---
LMAS Hours of Operation
Our offices are open Monday - Thursday from 8 AM - 4 PM. We are closed on Fridays.
We will also be closed on the following days:
Monday, February 18, 2013, Presidents Day
Monday, May 27, 2013, Memorial Day
Thursday, July 4, 2013, Independence Day
Monday, September 2, 2013, Labor Day
Thursday, November 28, 2013, Thanksgiving Day
Tuesday-Wednesday, December 24-25, 2013, Christmas Holiday
Tuesday-Wednesday, December 31-January 1, New Years Holiday
---