Patient Portal
LMAS District Health Department is now offering our patients easy and private access to their medical information online, so you can view your personal health record whenever and wherever you have access to the Internet!
Gain access to your private health information and receive periodic updates and appointment reminders on your personal e-mail address!
You can speed up your appointment by filling out and submitting your paperwork ahead of time from our patient portal! All from the comfort of your own home!
How Do You Get Web Enabled?
To gain access to our secure server on Patient Portal and become web-enabled, simply call your local office to sign up by providing us with a personal (non-work) e-mail address.
You will be able to securely log in with your username and password, and gain access to your personal health record and other helpful features from any computer or smartphone with an Internet connection!
Already Web Enabled?
Click here to access your account and begin using your online portal!



Superior Health Foundation Breast Health Fund
Eligible breast cancer patients from all across the Upper Peninsula can apply for philanthropic grant funding/financial support to help minimize the out-of-pocket expenses for those who most need support for breast-care related bills, biopsies, procedures and ultrasound tests.
For more information about the program, please contact:
LMAS District Health Department
Attn: Nicole Robinson
E9526 Prospect Street
Munising, MI 49862
(906) 387-2297 (phone)
(906) 387-2224 (fax)
Call 2-1-1
"2-1-1" is an easy-to-remember telephone number that connects people with important community services and volunteer opportunities.
Every hour of every day someone needs essential services such as assistance for a child, aging parent, or the entire family. Faced with the growing number of agencies and help-lines, individuals may have difficulty finding help because they do not know where to start or who to contact. U.P. 2-1-1 opens the door by providing easy access to needed information and assistance.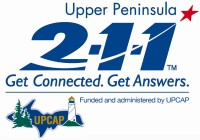 Their mission is to provide easy accessible, responsive, and professional information and assistance to Upper Peninsula citizens and families in need.
For more information on 2-1-1, click here:
2-1-1
---
LMAS Hours of Operation
Our offices are open Monday - Thursday from 8 AM - 4 PM. We are closed on Fridays.
We will also be closed on the following days:
Monday, February 16, 2015, Presidents Day
Monday, May 25, 2015, Memorial Day
Friday, July 3, 2015, Independence Day
Monday, September 7, 2015, Labor Day
Thursday, November 26, 2015, Thanksgiving Day
Thursday-Friday, December 24-25, 2015, Christmas Holiday
Thursday-Friday, December 31, 2015 - January 1, 2016, New Years Holiday


---